Category Archives:
Uncategorized
Thank you for your interest in our work. To get a full version of the poster please click here
A question a lot of people wanted to know that answer to it seems and my elective group did a great job explaining this as the winners of the People's Choice Award at the PHCY470 Elective Study Research Symposium on 5 October 2018. Congratulations on a great effort – let's get the paper published now!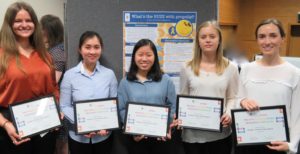 2018 McDowell Research Elective Group: L to R Devon Crooks, Nina Pham, Xin Er Tan, Sophie Scott and Chloe Battersby. Photo by Joseph Kim.
Thanks to Shane Bocock for the initial question to start the project.
Submissions are open!
Drug delivery to animals for prevention and treatment of disease, fertility modulation, as well as pest control, is a fascinating field of research that benefits from an inter-disciplinary approach. The aim in compiling this Special Issue of Pharmaceutics on the topic of "Veterinary Medicine" is to draw together experts with knowledge of animal species from diverse fields including physiology, pharmacology and pharmaceutical science and zoology, who are engaged in contemporary research to solve the challenges of drug delivery to animals. 
Submissions (original papers and reviews) that contribute to understanding and applications of relevance for delivery of therapeutics to animals and animal health are welcomed for this Special Issue.  Please get in touch if you would like to contribute.
Dr Arlene McDowell
Guest Editor